The rye flour is a great source of fiber whilst also acting to bind the treats while the oats are scattered throughout the dough for texture. Peanut butter is utterly irresistible to most dogs and the star ingredient within this dog treat recipe! Mixed with rich smooth banana for added nutrition and a pinch of cinnamon to help regulate your dog's blood sugar.
These treats are surprisingly quick and easy to whip up, the result is a great supply of nutritious treats for your pooch. Store these treats in an airtight container, up to 1 week at room temperature or 2 weeks in the refrigerator.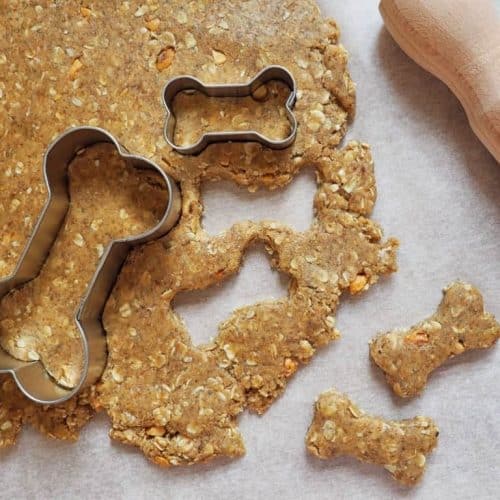 Homemade Peanut Butter and Gluten Free Oat Treats
This recipe uses common pantry ingredients to create a decadent cookie which is a real treat for your pup.
Equipment
Mixing bowl

Baking tray

Rolling Pin

Cookie cutter (optional)
Ingredients
1

oz

banana, ripe

4

oz

natural peanut butter

3.5

oz

rye flour

1.5

oz

gluten-free oats

1/4

tsp

ground cinnamon
Instructions
Preheat an oven to 175°C and line a baking tray with parchment paper.

Into a mixing bowl add the banana and peanut butter. Crush the banana until smooth and the two ingredients are completely combined.

Then pour in the rye flour, oats, and ground cinnamon, fold together to mix well.

If the peanut butter dough becomes too dry, then add extra peanut butter until the consistency is firm and workable.

Transfer the dough to a work surface and roll until 0.5cm thick using a rolling pin.

Cut the dog treats with a cookie cutter or roll using your hands to form traditional cookies.

Place the peanut butter dog treats onto the lined baking tray and bake for 15 minutes.

Once the treats are golden brown remove them from the oven and allow them to cool completely.

Store in an airtight container for up to 1 week at room temperature or 2 weeks in the refrigerator.